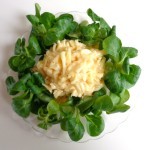 It is always a comfort, on a cold, damp Paris day, to walk into a bistro at lunchtime and encounter a plate of céléri rémoulade, the classic French starter of grated celeriac bathed in a tangy mustard mayonnaise. This earthy salad is one of the dishes I longed for when far from France for long periods on journalistic assignments. You won't find it in Moscow or Manila, nor for that matter in many of the trendy new cafés sprouting up in Paris. But what it may lack in chic it makes up for in flavor. A good reason to make it at home.
Céléri rémoulade / Celeriac remoulade
The key — once you have located one of the knobby, dirt-covered bulbs known variously as celeriac and celery root — is to make the remoulade sauce yourself, beginning with homemade mayonnaise. This is easily done, and the result bears no relation to the store-bought variety. If you've never tried it before, you can watch me make it in this video. The mayo is then enhanced with Dijon mustard and mixed with the grated root. It took me less than five minutes to prepare the salad shown in the photo above, and that includes making the mayo. (I was in a rush to watch CNN on the results of the elections in Iowa.)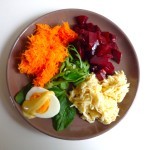 Celeriac remoulade can be served on its own as a starter, set on a bed of tender leaves or garnished with fresh herbs. But here in France it is most commonly seen as part of the mixed veggie starter known as assiette de crudités. It makes a magnificent partner to the other salads on the plate — most often of grated carrots, chopped beets, sliced cucumber and/or boiled potatoes, topped with vinaigrette and accompanied by half an egg.
And speaking of eggs, while preparing this week's post I took time to revisit another of my favorite classic French starters — oeufs durs mayonnaise. What could be simpler than eggs boiled just long enough to harden, their yolks remaining a bright orange-yellow, and topped with fabulous homemade mayonnaise? In this season where anything can happen politically, but where the weather (at least in Paris) is bound to remain relentlessly gray, we need — in fact, we deserve — a cheery start to a meal.
Happy cooking!