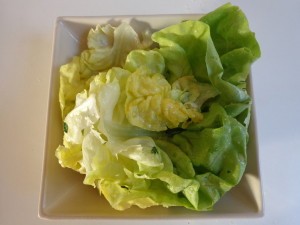 Green salad, French style

This is the classic French salad, the one that invariably appeared whenever you wandered into a bistro and ordered une salade. It consists simply of lettuce and dressing – no cucumbers, tomatoes, radishes or other embellishments. It doesn't need them. For it is perfection in its simplicity – light and packed with flavor.
The lettuce most often used in France is what Americans call Boston lettuce, and what the French call simply salade (at right). Another favorite is escarole, scarole in French.
Rarely were other types of lettuce used in the old days, but now one may encounter innovations like feuille de chêne, literally oak-leaf, a variety of lettuce with scalloped leaves (at left).
As for the dressing, in previous times salade verte was always served with vinaigrette à la moutarde – a vinaigrette of Dijon mustard, red wine vinegar, sunflower or peanut oil, salt, pepper and shallot or garlic. In Paris, at least. In southern France, olive oil was used, sometimes with lemon instead of vinegar. Now there are variations throughout the country, with balsamic vinegar and other upstarts making an occasional appearance.
The tragedy today is that it's next to impossible to find a classic salade verte in a French bistro. The lettuce may be the same, but bottled dressings have largely replaced the homemade vinaigrettes that gave this salad such distinction. The newfangled sauce is runny, white and – perish the thought – can be sweet.
All lovers of French food must fight this trend by making their own vinaigrette. It takes about two minutes and results in a thick sauce that clings to the lettuce leaves, imbuing each bite with bursts of delicious flavor, smooth with just a touch of tanginess. I like to snip fresh herbs on top – not just parsley, which is classic, but also basil, chives, cilantro, dill or mint. Experiment to see what you prefer. Then sit back and enjoy a perfect salad.
1 head Boston lettuce
2 tsp. Dijon mustard
1 tsp. red wine vinegar
1/4 tsp. salt
3 tbsp. sunflower oil, peanut oil or another vegetable oil
1 shallot or 1 clove garlic, peeled and finely minced
freshly ground black pepper
1 tbsp. fresh herbs, snipped: parsley, basil, chives, cilantro, dill, mint or a combination
Remove the core of the lettuce. Separate the leaves. Remove the basket from your salad spinner, fill the bottom with cool water and immerse the leaves to wash them. Place the clean leaves in the basket and spin dry. Tear the larger leaves in half.
In the bottom of a large salad bowl, combine the mustard and vinegar. Add the salt and stir. Add one tablespoon oil and stir vigorously until all the oil has been incorporated by the mustard – it should make a thick emulsion. Repeat with the second tablespoon of oil, and then the third. You should now have a thick sauce that resembles homemade mayonnaise in its consistency. (For a video demonstration, click here.)
Add the minced shallot or garlic. Grind in some pepper.
Place the dry lettuce leaves on top of the sauce. Sprinkle with the herbs.
Just before serving, toss the salad by lifting from the bottom and folding over several times to coat all the leaves evenly with the sauce. Serves 3-4.