As cool, rainy weather set in the other day, I had a hankering for pot au feu. Ran out for the ingredients, came home to look up my recipe on this site — and was astounded to find it wasn't there. So today I offer you this classic French dish of broth, beef and veggies. In past centuries, pot au feu (literally 'pot on the fire') was made in a cauldron, simmering for hours over a fire. Although the ingredients are humble, the result is regal.
Pot au feu / Pot au feu
There are as many ways to make this dish as there are cooks in France. The basic ingredients are stewing beef, onion, carrots, turnips, leeks, potatoes, bay, thyme and marrow bones. And then the discussion begins. In her excellent French Provincial Cooking (1960), Elizabeth David devotes five pages of tiny type to the preparation of pot au feu, including a passage on what type of soup pot to use ('earthenware, copper, enamelled iron or heavy aluminium') and another on why non-French cooks often suppose that pot au feu 'holds some special secret which eludes them'.
Not to be outdone, Julia Child, in her Mastering the Art of French Cooking, Volume 1 (1961), makes still more of a meal of pot au feu with what she describes as a Normandy version including pork, chicken and sausages in addition to the boiled beef and vegetables. This version, by the way, I have never seen. Most French recipes tend to be simpler, differing mainly in the cuts of beef and the types of vegetables to use.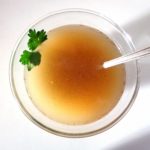 I also make a simple version, although it's a lengthy process. The beef is boiled for more than four hours, reaching a sublime tenderness and producing a deeply aromatic broth. The veggies are added at the end to retain maximum flavor. This is a healthy dish, as the fat is skimmed away during cooking. It is served in two stages — first the broth, then the meat and vegetables arranged on a platter, often with sea salt, Dijon mustard and sharp French cornichons (little pickles) alongside.
Break out a bottle of hearty red, bring on some crusty bread and you have a meal fit for a king or a queen, not to mention the little princes and princesses. Pot au feu is a family dish par excellence, and a wonderful addition to the menu as cold weather arrives. I hope you enjoy it as much as we did.
Happy cooking.