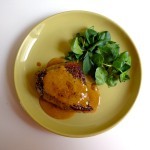 A dish that can bring down the house — literally — is steak au poivre, the classic French bistro offering of tender beef crusted with cracked black pepper and topped with a cognac-cream sauce. When I embarked on this recipe, my kitchen nearly went up in flames — twice! The skillet I used to pan sear the steak caught fire when I started the sauce, with bright yellow flames shooting two feet into the air. Oh là là…
Steak au poivre / Steak au poivre
Does this explain why steak au poivre, while ubiquitous in restaurants, is rarely served at home? In my 40 years in France, I have never been treated to this dish by a host or hostess. And yet, once you get the knack, it is not only quick and easy to prepare, but results in a magnificently elegant dish. So what went wrong?
Before embarking on my version of steak au poivre, I consulted at least a dozen recipes by chefs from Julia Child to Joël Rebouchon. Almost all said to sear the steak in a combination of oil and butter, remove the steak, cast off the fat and then prepare the sauce in the same skillet. The first time I tried this, I neglected to cast off the fat. There wasn't much, and I didn't want to lose the beef juices. So I removed the steak and, with the skillet still over a high flame, added the cognac. Whoosh! Flames shooting into the air. The second time, I did the same but decided to add a little water to deglaze the pan before adding the cognac. Whoosh and double whoosh! The water caught fire as well.
Perplexed, I decided to consult the nearest expert — the chief butcher at Plisson, the gourmet food store across the street from my home. He not only made fun of me for having failed to cast off the fat, but also berated me for my choice of olive oil and butter for searing the meat. Non, non, said he, one must never use olive oil for frying, but rather grape seed oil, which can reach a higher temperature before smoking. And butter? Rebuchon be damned. Une erreur, madame!
Much abashed, I bought another steak from him. But before I could try again, my daughter decided to cook it for her supper. So back I went to Plisson, where this time another butcher proved more helpful. He is Andrew, a young Texan chef who somehow pitched up at this Parisian temple of gastronomy. Andrew and I have developed a friendly joshing relationship over the past year, and I have often asked his advice. For example, what about the grape seed oil? I know it's trendy, but it's certainly not an oil that has been a traditional component of French cuisine over the years. I didn't want to use it for this recipe because it's not part of the kitchen repertoire of most everyday chefs I know, including myself.
Andrew suggested using any mild vegetable oil, like sunflower oil, and searing the steak on both sides first before adding a little butter to the pan. Like his boss, he warned that the skillet would catch fire if the fat was not cast off before adding the cognac. I bought a couple more steaks, went on home and tried the Andrew method. With spectacular results! The rich, cognac-infused sauce and sharp peppercorns made for unbeatable flavor power.
For the record, this is the most expensive dish I have ever made for this site — not because it's expensive per se, although buying top-quality beef is essential, but because I had to try so many times to get it right. I hope you'll try too. The results are well worth the effort.
Happy cooking.
P.S. For those of you who asked about the recipe for the rhubarb-ginger cake mentioned in my last post, it appeared in The Guardian in the recipe column written by Dan Lepard. Here's the link:
http://www.theguardian.com/lifeandstyle/2012/jan/13/rhubarb-recipes-dan-lepard